Feedback
Kind Words From Our Customers & Friends
Our customers work hard for their residents. They truly are the heroes of multifamily and they inspire us every day. We hear from them often about our amazing reps, drivers, and customer service folks who go above and beyond to make their day a little better.
We're proud of the work our team does and the dedication of our employees. Many behind the scenes will never get this kind of "thank you" but we all celebrate with the Chadwell Supply family mentioned in these kind words.

Send Us Feedback
We'd love to hear from you!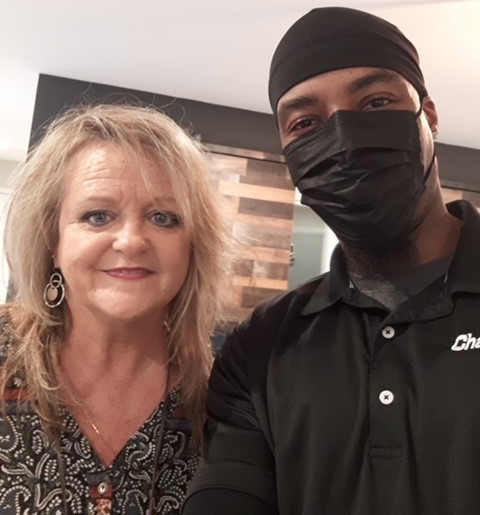 Turn Your Day Around
"...this guy [Charles] is so awesome and cheerful that he can just turn your day around in a second by saying good morning. "

Rhonda W. from The Lory of Harbison
Pictured with Charles Pringle, Delivery Driver
Columbia, S. Carolina
Brighten Someone's Day
I just want to tell you how much I love the Chadwell [Supply] truck! Orders come the next day and the driver is so nice!!! Thank you!
Brenda Matthews, Property Manager
The Grove Apartments, Lake City Florida
June 11, 2020
Special Delivery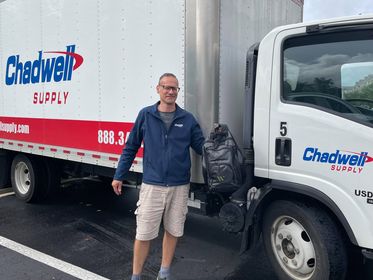 I work in Kansas City and had been working 2 hours away at a property midway between KC and St Louis. Making a hasty exit to go to my family I forgot my work bag, only to realize it after making the drive.

Knowing that the deliveries to KC happen daily I called Jon Fink to see if the driver could pick up my bag when they deliver to Columbia. Jon made some calls……

Next thing I know is Jon got ahold of our rep Mike Brady who just happened to be in Columbia just 1 mile from the property. He went and picked up my bag. Took it to STL where some people were working late doing inventory and were able to get it on the truck to KC.

Needless to say, the next day I had my bag. All thanks to the service and reliability of Chadwell Supply. You all went way above and beyond!
Dan Rains
Worcester Communities, Kansas City, MO
October 14, 2021
An Asset to Our Team
I just wanted to take a minute and give a shout out to Tyler Anderson, our area sales rep. From the first time we were connected with him, he has been nothing but outstanding. We look at our vendors as an extension of our team and he truly has been a HUGE reason why we are successful at The Bricks at 6888 and The Brandt at 6851.
I just wanted to take a second and let you all know that Tyler is a great asset to your team and we are so lucky to have him as a part of our team as well!
Shelbie Hill, Regional Property Manager
Heron Property Management, Indianapolis, IN
December 4, 2020
People Who Care About Helping People
I'm writing this email to give a big shout out, and thank you to one of your territory sales managers. Michael Stewart, has been helping me get PPE supplies for 21 of my properties. He has gone above and beyond and has exceeded my expectations. Michael has helped me on several occasions and projects without hesitation. He is without a doubt an asset to me and Bonaventure. Thank you for bringing on people who care about helping people and truly enjoying their job.

John Schojan, Director of Maintenance
Bonaventure Property Management
March 3, 2020
Worth His Weight in Gold
My sales representative Gerald Tingle is a gem. I have called Gerald when he has been driving on the road and he will pull over to help me place an order or even if I have a question about a product. His reply was "No problem, Karen, I will be happy to assist you, and take care of you anytime."
Gerald is very knowledgeable about your products, even when I am describing a product that I don't know the name of it. He helps me either by looking up a part in the catalog, obviously knowing the page that I needed. Gerald has also suggested better pricing for me; he is positively worth his weight in gold to me.
Karen Murphy, Community Manager
Cedargate Apartments, Shelbyville, KY
April 28, 2020
"Johnny on the Spot"
I would like to take a minute and tell you how wonderful of an employee you have in Troy [Morton].
I have been at the Lenox for 16 months and he was one of the first vendors that I met when I came and was very helpful at that point and 16 months later and 6 maintenance supervisors later he is still the best most knowledgeable vendor that I have.
There has not been one time that I have called and he was not available or able to figure out my question…when I call, he is still Johnny on the spot!
Deborah Ammend, Property Manager
The Lenox, Indianapolis, IN
May 21, 2020
Outstanding Customer Service
We have been using Chadwell [Supply] for about the past year and I love them. My account rep is Floyd Jackson. The customer service is outstanding (Floyd is truly amazing!!) delivery is fast and dependable and the products come in great shape.
Billie Fridley, Property Manager
Fox Chase Apartments, Marion, Ohio
April 14, 2020
Getting the Right Product Quickly
Our rep is Bob Gottschalk and he does an amazing job at making sure we get the right product and quickly. He is always ready to help with any projects. Our Maintenance Supervisor says he is the best rep in his 30 years in the apartment management business.
Anne Boome Coker, Property Manager
RAM Partners, Knoxville, TN
March 5, 2020
Keeping the Project on Schedule
I wanted take a moment to let everyone know about my experience with John Price at Chadwell Supply over the course of the last 2 weeks here at Palmetto Creek. Pretty late in the evening on a Friday, I informed John that I may be leaning very hard on him in the coming weeks to keep [my] crew supplied and that there will certainly be several ASAP orders to come.
In the following 2 weeks I was at Chadwell [Supply] picking up materials almost daily along with having 8 full kits ordered and delivered by them and personally ordered countless items saying, "as soon as it's ready, let me know."
Each and every order that I placed went flawlessly and John and the warehouse staff were on top of them and were pivotal to keeping me supplied the entire time. I even ordered items at nearly 10pm one night for the next day and they were ready for pick-up the next morning. In our business it is sometimes lost, the words of praise, so I wanted to make sure that you all knew just how instrumental John and Chadwell [Supply] are in our daily operations, but especially how they hit it out of the park the last couple weeks.
Jeff Hale, Project Supervisor
LURIN Construction
Palmetto Creek Renovation, N. Charleston, SC
March 5, 2020
Heading Off a Mistake
I wanted to take a moment to recognize superior service and give a formal commendation to one of your very dedicated employees, Plinio [Bueno], who went the extra step and deserves special recognition.
Plinio is our local delivery driver here at The Park At Chelsea and he always does a superb job and interacts very well with our team here, but today's service really stood out in particular. Plinio caught a mis-order that was made and informed me immediately of the error and the steps needed to correct it. His forethought and attention to detail, combined with his advanced knowledge of the supplies and usage process of those supplies allowed him to give me some very helpful and eye-opening knowledge that I had not known prior to today. Plinio is a true asset to your organization and has character and ethics that are hard to find in employees. He went above and beyond today and I wanted to recognize his amazing worth ethic and loyalty not only to your company but also to your customers... we really appreciate it and will not forget it!
Hats off to Plinio, you are lucky to have him! :)
Shauna Connolly, Property Manager
The Park At Chelsea, Hudson, Florida
October 3, 2020
Warming Hearts & Homes
During the "snow apocalypse" of 2017, an employee that works with me was left without heat. He contacted a repairman to help fix the issue and quickly realized he couldn't afford the work. Since he works alongside professionals in this field, he leaned on us for help. We suggested he contact Chadwell Supply to get a part, which would save him money. Bert Wray, not only helped him get the part, they did it as quickly as they could since he has a small child and wife at home. No one on site knows this happened. Only two people at the home office know this happened. Chadwell [Supply] didn't do this for publicity or to gain more business; they did it because they could. They could have easily said, sorry we can't allow individuals to order parts from us, only properties, etc. Again, another memorable moment.
A vendor partner is someone who partners with you in all aspects of the community. Chadwell Supply does that and so much more.
Gina Carter, Vice President – Portfolio Operations
Blue Ridge Companies, High Point, NC
February 27, 2017