/
Resources
/
Articles
/
5 Tips for Storm Prep Maintenance
5 Tips for Storm Prep Maintenance
It may seem early to stock up for storm season but with the supply chain challenges in today's market, preparing early will be the best thing for your property and your sanity. Here are 5 Tips to remember as you prepare for whatever the season holds:
Stock Up on Supplies


When there is a storm on the way, everyone will be looking for the same limited resources. If you haven't properly prepared, you may find your property going without.

Stock up early and set critical items aside. If you find supplies are being used, re-order small amounts to maintain your stockpile. If the season ends and you still have excess supplies, use them over time with regular service requests.

See our suggested Storm Prep/Cleanup Checklist

Prepare the Property


When you prepare your property early, it will be better able to weather a storm (pun intended). Walk the property and carefully note items that could be hazardous or cause damage in high winds or from large amounts of rain. Make a plan to remedy concerns. Check the following areas:



Trees – Look for dead wood, signs of instability or decay, or potential to hit buildings or powerlines – then trim as necessary.


Roofs – For shingle roofs, look for loose or damaged shingles and areas where previous leaks have been repaired – repair shingles or damaged areas as needed. For flat roofs, check for open seams, punctures, debris, drains and scuppers – repair any issues and remove any obstacles or clogs.


Large Objects – Walk the property looking for large items such as HVAC units, trash receptacles, or planters that may need to be secured – purchase and install proper brackets or repair to keep objects in place.


Building – Check siding, trim, fascia, soffits, gutters, downspouts, gutter apron and drip edge, and both building and pole lighting to make sure everything is secure.


Lift Stations – Service your lift station to help ensure it will continue to work properly when needed.


Shutoffs (Power, Gas, Water, Lift Station) - Be sure your team knows where each shutoff is and, if possible, test and make sure they work properly - remedy any issues found.


Storm Shutters – Know where they are and show the team how to install them correctly. Don't let missing parts/screws, etc. slow your preparation efforts when a storm is approaching. Identify and order replacement parts before you need them.


Automatic Gates & Doors – Make sure doors, gates or arms operate properly and open/closed switches work property. Make sure you know how to "unlock" or open them when power is out.


Swimming Pool – Plan where chairs, tables, umbrellas will be stored when needed. In a pinch, throwing them in the pool can work. But, if you have the manpower and advanced warning to properly store them, have a plan to do so.

Investigate Water Concerns

Most properties have at least one area that collects water and is more susceptible to water damage. Inspect such areas in basements, breezeways, or on the grounds. Look for areas that cause concern and brainstorm solutions to avoid costly water damage. Action items could include:



Purchase barriers such as sandbags or Quick Dams.


Clean parking lot drains, storm drains, ditches, lakes, and retention pond drains so that water will flow freely.


Clear gutters.


Replace weather-stripping.


Check sump pump operation.

Review Team Responsibilities

Get your entire team on the same page before the crazy weather happens. Take the time to:



Update the team contact list.


Review property-specific requirements when a storm is imminent.


Discuss potential storm cleanup efforts – including the differences between black, gray and potable water and some basic mold awareness training.


If in an evacuation zone, review evacuation plans and responsibilities.


For tornado-prone areas, review shelter-in-place options on the property for tornado watches/warnings.

Update Vendor/Contact Lists

Vendors and contacts change all the time. Just because they helped the property in the past, doesn't mean they are still in business or able to take on more work. Reach out to each of them and negotiate rates and/or find new contractors BEFORE storm season starts. Also, get a contact (name and phone) that can be reached anytime, day or night. Having an up-to-date vendor list on paper and stored on your phone can help save a lot of stress and frustration during cleanup.
While we don't have a crystal ball, having a plan for storm season and then working the plan when one is headed your way, can help mitigate problems and get your property back to normal as quickly as possible after the storm passes.
Remember, Chadwell Supply is here for our customers (family) and we all go through the storm together. Should you need up-to-date information on the availability our products, reach out to your Territory Manager or just log into your Chadwell Supply account.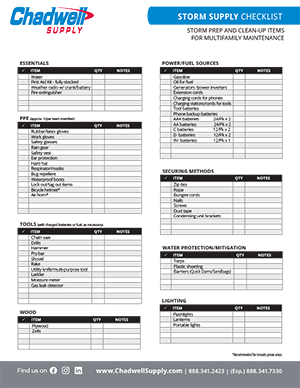 Storm Prep Checklist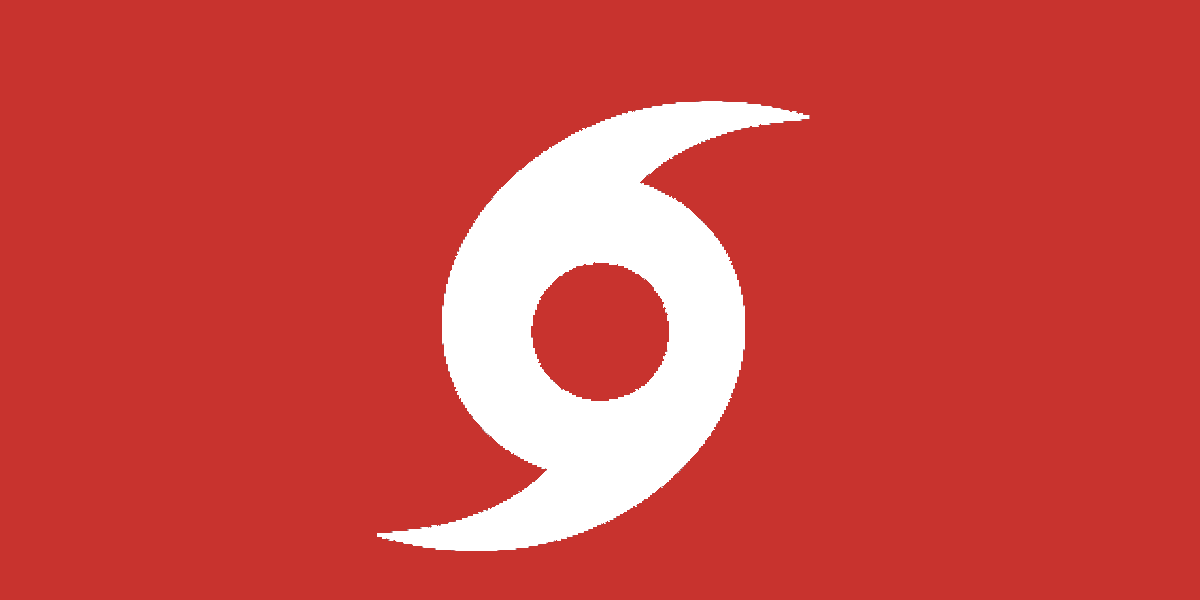 Storm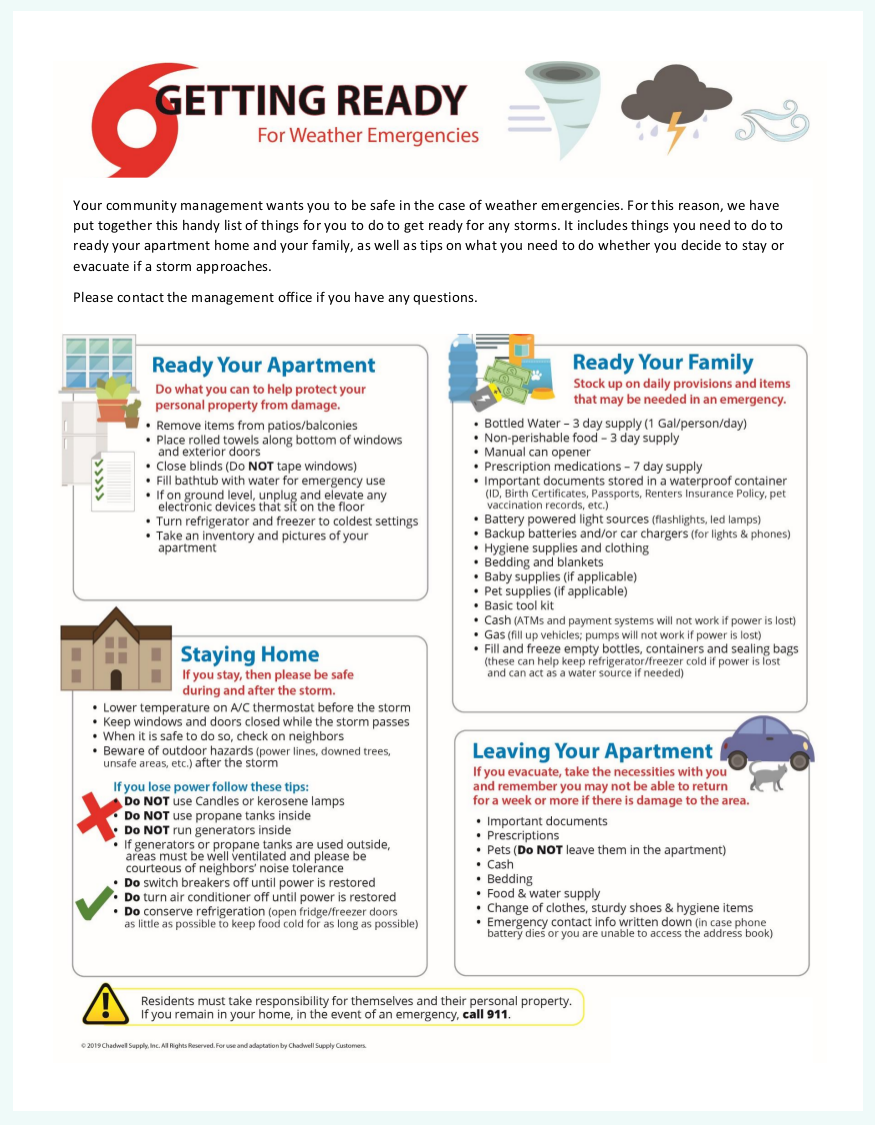 Storm Readiness Infographic