Coronavirus
Dear valued Customers and Friends,
In these uncertain times, our priority is the safety of our employees, customers, and your residents. Our teams are all-hands-on-deck working to keep your communities stocked and to assist you in conducting, if not business as usual, at least business as efficiently as possible.
We will continue to keep you up to date as we closely monitor information provided by State and Federal officials during this challenging time. As long as official guidelines allow, we will continue to operate and to conduct deliveries while taking extra precautionary measures to keep our employees and customers safe.
Delivery drivers are doing a fantastic job and have been very flexible as we have worked with many of our customers to alter our processes to accommodate changes being made on-site with many of your communities. When your delivery arrives, instead of requiring a signature, our driver will take a picture to confirm the delivery receipt for our records.
Your local sales associates, as well as our Customer Service team, are still here to serve and assist you in keeping your communities running as smoothly as possible. If you need assistance, do not hesitate to reach out to your sales rep or email us at customerservice@chadwellsupply.com. You can also use the chat feature below or call 888-341-2423.
God Bless you and your families! Stay safe, we are all in this together.

A Message Regarding Coronavirus (COVID-19)
Chadwell Supply is closely monitoring and complying with all state and local regulations and mandates in response to the coronavirus. Our highest priority continues to be the health and well-being of our customers and their residents, as well as our own employees.
As of today, Chadwell University classes are canceled until April 10, 2020. We will continue to assess the situation and make the necessary changes to the schedule in the coming weeks.
We are working with our customers and management companies to ensure a safe delivery process and will continue to adjust our process as necessary to facilitate efficient operations while maximizing the safety and comfort of our customers and our drivers.
Our Executive Leadership has released this letter detailing some of the steps we are currently taking to respond to these challenges. Be sure to speak with your local sales manager or National Account Manager if we can be of further assistance. You can also contact us here.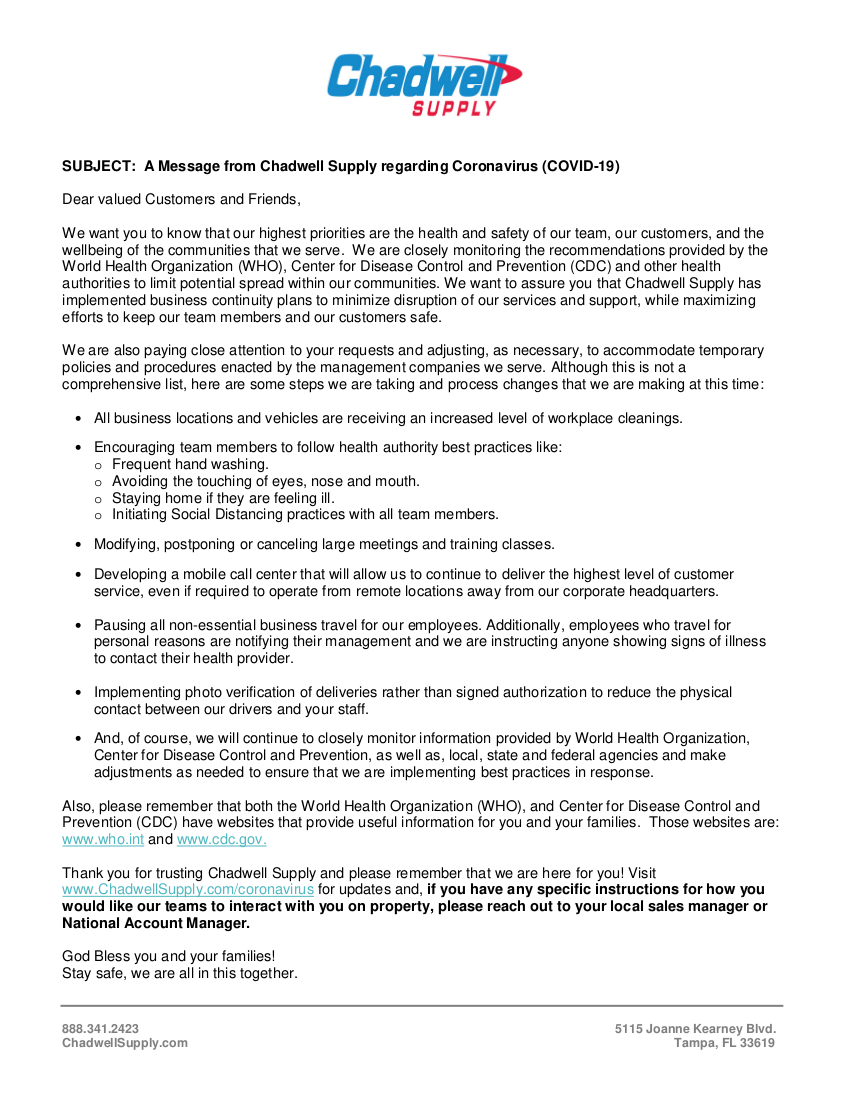 March 16, 2020 (Updated March 19, 2020)
Announcing Chadwell Supply's "Safer Delivery" Initiative
When your Chadwell Supply driver arrives to deliver your order, they can now confirm and record delivery simply with a photo. A quick smile for the camera (just for our records) is all that is needed, no passing of devices or papers as we all work together to minimize opportunities for contamination.
If your company is implementing policies at this time that would require additional steps to be taken or a different approach by our drivers, please coordinate with your local sales associate.
Several management companies have reached out to use with altered policies for their communities during this challenging time. We are happy to work with our customers as they do all they can to keep their staff and residents safe.
We are committed to keeping you, our customers, and our drivers as safe as possible as we all work together to face the current health dangers.

Precautions and Product Availability
At Chadwell Supply, we share your concerns and challenges as we work to minimize the risk to your residents and employees from COVID-19 and other flu-like viruses. Like all suppliers and retailers, we have extremely low stock, or we are completely out of, many of the items that could be used to mitigate this virus. We are working to restock cleaners, masks, hand sanitizer, and related items but we cannot know for sure when they will be back in stock.
Cleaning Products Effective for Coronavirus and other Viruses
The EPA has released a list of products approved for use to combat the particular COVID-19 and other viruses. It can be found here: EPA list. The products listed have been tested by the EPA and certified for use in killing such viruses. From the EPA's list, we currently do have a limited supply of Clorox Cleanup with Bleach (#352139).
Generally speaking, bleach, peroxide-based cleaners, and even simple detergents can combat many of the germs which cause most flu viruses and can be used for cleaning surfaces in public areas of your communities, even if they are untested for COVID-19. Many of these items are also available in limited supply:
Recommendations from the CDC
Ultimately, following basic cleaning and hand-washing procedures and taking precautions, will help to limit the spread and severity of coronavirus, other types of flu and communicable diseases. Here are a few basic prevention tips from the CDC:
Wash hands often with soap and water for a minimum of 20 seconds. If soap and water are unavailable, use an alcohol-based hand sanitizer.
Avoid touching your eyes, nose, and mouth with unwashed hands.
Avoid close contact with people who are sick.
Stay home when you are sick.
Cover your cough or sneeze with a tissue, then throw the tissue away.
Frequently clean and disinfect touched objects and surfaces.
Visit the CDC's Coronavirus Information Page at CDC.gov/coronavirus for more information.
Other Resources for Multifamily
The National Apartment Association has also compiled Guidance for Dealing with the Coronavirus.
Likewise, the National Multifamily Housing Council has made information available at NMHC.org.
We will post updates here as we are able to restock masks, hand sanitizer, and cleaning supplies in the coming months.