/
Resources
/
Articles
/
Turn Preventive Maintenance into a Budgeting Tool
Turn Preventive Maintenance into a Budgeting Tool
One of the best ways to save time and money for your property is with a Preventive Maintenance (PM) Program. To be effective, preventive maintenance must be regularly scheduled and tracked. This should not be a long or involved process but, rather, a fast and repeatable set of tasks for your team. A well-managed PM Program can benefit the property in many ways, such as preventing emergency service requests, help avoid surprises at move-out, and be a valuable budgeting tool.
There are several ways to approach a PM Program but the end goal is the same: To identify areas of concern and TAKE ACTION BEFORE they become costly, more complicated issues.
One aspect of a PM Program is a PM Quick Check. We recommend using a PM Quick Check Checklist and following a Quick Check process. A PM Quick Check takes advantage of regular maintenance service requests to make note of potential or future issues in that unit. If a service request is not made within a set amount of time (for example quarterly), a quick check of the apartment home should be made for preventive maintenance purposes.
A PM Quick Check is a quick visual inspection of an apartment's condition and systems —if it takes more than 15 minutes per unit, it is too long.
If something needs attention DON'T STOP to investigate it or fix it. Instead, make a note and move on to the next unit.
When all planned checks are done for the day, create service requests for the items that require follow-up.
It is important to also enter the data collected into some type of tracking system. This could be as simple as an excel spreadsheet or a specialized app or software that integrates with other programs.
How does the PM Quick Check become a budgeting tool?
Starting a tracking system with your PM Program can help you make intelligent business and budgetary decisions for your property. Let's look at two hypothetical examples:
Example A
A 110-unit property has consistently been working their PM program, visiting all of the units over the course of the year.
From PM Quick Checks the property can estimate that about 30% of all the units will need their carpet replaced on moveout or 33 units to have their carpet replaced.
Thankfully not every resident will be leaving, so the turnover rate must also be considered. For the example, we will say the turnover rate is 18%.
The total number of carpets needed should be multiplied by the turnover rate (i.e. 33 units x 18%= 5.94 or 6 units). The result is an actionable, data-based estimate (not a guess) of how many units will need to have the flooring replaced in the next year.
For the final budget figure, multiply the number of units needing flooring by the average unit square footage then by the flooring cost per square foot (i.e. 6 units x 550 sf x $2.50/sf =$8,250).
Example B
In contrast, this property's maintenance team has not seen the inside of many of their units in the past year. They have no idea the condition of the flooring so it is a guess as to how many units will need the carpet replaced. Managers may look at last year's flooring budget to try to determine if they spent it all or had money left over. Using this, they create a guesstimate of what they think will happen in the coming year. This might be a reasonable estimate but it might not be. If during a review this budget line item were to be questioned by upper management, there would be no data to substantiate the amount requested.
Carpet is just one example. Any budget category or capital expense, such as water heaters, HVAC units, or appliances will be more accurate with actual data behind it. If your property is to be evaluated or maybe your bonus is tied to profitability, will you feel better basing your decisions on guesswork or on data?
Download your fillable copy of the Quick Check Checklist to make it easy for techs to track and report potential or pending issues. For further customization and tracking functions, use this Excel spreadsheet template.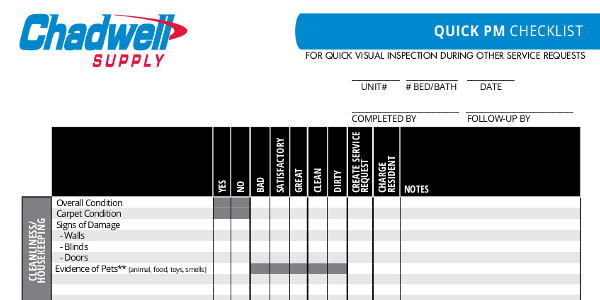 Quick Preventive Maintenance Checklist
For more functionality, use our customizable PM Checklist Excel Workbook...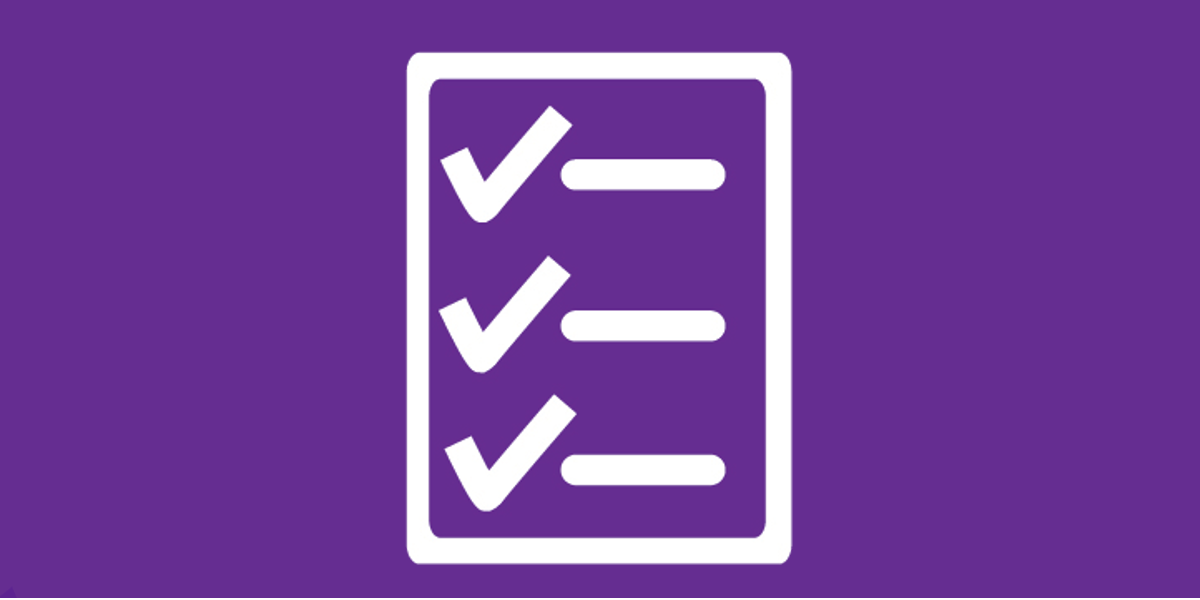 Preventive Maintenance